ineo 287
Rychlost tisku A4/A3: 28/14 stran za minutu
Skenování rychlostí až 45 str/min
Snadno pochopitelný a intuitivní ovládací panel s podporou multi-touch
Možnost ověření uživatele přes NFC (Android) nebo Bluetooth LE* (iPhone/iPad)
Podpora všech současných technologií mobilního tisku
Bohaté možnosti dokončování a výborná podpora médií
Splňuje nejpřísnější bezpečnostní normy
Velmi nízká spotřeba elektrické energie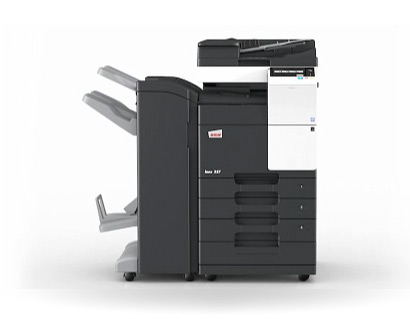 Copier Specifications
Copying process
Electrostatic laser copy; indirect
Toner system
High-definition polymerised toner
Copy/print speed A4 mono (cpm)
Up to 28 cpm
Copy/print speed A3 mono (cpm)
Up to 14 cpm
Autoduplex speed A4 mono (cpm)
Up to 28 cpm
1st Copy/print time mono (sec)
5.3 sec.
Warm-up time (sec)
Approx. 20 sec.
Warm-up time may vary depending on the operating environment and usage
Copy resolution (dpi)
600 x 600 dpi
Magnification
25-400% in 0.1% steps; auto-zooming
Copy functions
Chapter; cover and page insertion; proof copy (print andscreen); adjustment test print; digital art functions; job settingmemory; poster mode; image repeat; overlay (optional);stamping
Printer Specifications
Print resolution (dpi)
1,800 (equivalent) x 600 dpi
Page description language
PCL 6 (PCL 5 + XL 3.0); PostScript 3 (CPSI 3016); XPS
Operating systems
Windows VISTA (32/64)
Windows 7 (32/64)
Windows 8 (32/64)
Windows 8.1 (32/64)
Windows 10 (32/64)
Windows Server 2008/2008 R2 (32/64)
Windows Server 2012/2012 R2 (64)
Macintosh OS X 10.x
Unix; Linux; Citrix
Printer fonts
80 PCL Latin; 137 PostScript 3 Emulation Latin
Print functions
Direct print of PCL; PS; TIFF; XPS; PDF (v1.7); encryptedPDF files and OOXML (DOCX; XLSX; PPTX); mixmedia andmixplex; "Easy Set" job programming; overlay; watermark;copy protection; carbon copy print
Mobile printing
AirPrint (iOS); Mopria (Android); Google Cloud Print(optional); WiFi Direct (optional); Konica Minolta PrintService (Android); PageScope Mobile (iOS); NFC Authentication and Pairing (Android)
Scanner Specifications
Scan speed colour (opm)
Up to 45 ipm
Scan Speed mono (opm)
Up to 45 ipm
Scan resolution (dpi)
Max.: 600 x 600 dpi
Scan modes
Scan-to-eMail (Scan-to-Me)
Scan-to-SMB (Scan-to-Home)
Scan-to-FTP
Scan-to-Box
Scan-to-USB
Scan-to-WebDAV
Scan-to-DPWS
Network TWAIN scan
File formats
TIFF; PDF; Compact PDF; JPEG; XPS; Compact XPS; DOCX; XLSX; searchable PDF; PDF/A; linerarized PDF
Scan destinations
2,100 (single + group); LDAP support
Scan functions
Annotation (text/time/date) for PDF; up to 400 job programs;Realtime scan preview
Fax Specifications
Fax transmission
Analogue
i-Fax
Colour i-Fax (RFC3949-C)
IP-Fax
Fax resolution (dpi)
Max.: 600 x 600 dpi (ultra-fine)
Fax compression
MH; MR; MMR; JBIG
Fax modem (Kbps)
Up to 33.6 Kbps
Fax destinations
2,100 (single + group)
Fax functions
Polling; time shift; PC-Fax; receipt to confidential box;Receipt to e-mail/FTP/SMB; up to 400 job programs
User box specification
Max. storable documents
Up to 3.000 documents or 10.000 pages
Type of user boxes
Public
Personal (with password or authentication)
Group (with authentication)
Type of system boxes
Secure print
Encrypted PDF print
Fax receipt
Fax polling
User box functionality
Reprint; combination
Download
Sending (e-mail/FTP/SMB and fax)
Copy box to box
System Specifications
System memory standard (MB)
2,048 MB (standard)
System hard disc optional (GB)
250 GB (standard)
Interfaces standard
10-Base-T/100-Base-T/1,000-Base-T Ethernet; USB 2.0; Wi-Fi 802.11b/g/n (optional)
Network protocols
TCP/IP (FTP; SMB; SMTP; WebDAV) (IPv4/IPv6)
Frame types
Ethernet 802.2; Ethernet 802.3; Ethernet II; Ethernet SNAP
Automatic document feeder
Up to 100 originals; A6-A3; 35-163 gsm
RADF optional avaiable
Paper size
A5-A3; A6S; Thick Paper X/Y size input range: Width:90-297 mm; Length: 139.7-431.8mm
Printable paper weight (g/m²)
60-220 gsm
Paper input capacity (sheets)
Standard: 1,100 sheets
Max.: 3,600 sheets
Paper trays standard
Tray 1: 500 sheets; A5-A4; 60-220 gsm
Tray 2: 500 sheets; A5-A3; 60-220 gsm
Manual Bypass: 100 sheets; A6-A3; custom sizes; 60-220 gsm

Paper trays optional
Tray 3: 500 sheets; A5-A3; 60-220 gsm
Tray 3 + 4: 2 x 500 sheets; A5-A3; 60-220 gsm
Large Capacity Cabinet: 2,500 sheets; A4; 60-220 gsm

Automatic duplexing
A5-A3; 60-209 gsm
Finishing modes (optional)
Offset; group; sort; staple; punch; centre-fold; letter fold; booklet
Output capacity (w. finisher)
Max.: 3,300 sheets
Output capacity (w/o finisher)
Max.: 250 sheets
Stapling
Max.: 50 sheets or 48 sheets + 2 cover sheets (up to 209 gsm)
Stapling output capacity
Max.: 1,000 sheets
Letter fold
Up to 3 sheets
Letter fold capacity
Max.: 30 sheets (tray); unlimited
Booklet
Max.: 20 sheets or 19 sheets + 1 cover sheet (up to 209 gsm)
Booklet output capacity
Max.: 100 sheets (tray); unlimited
Copy/print volume recommended (monthly)
13,000
Copy/print volume max. (monthly)
28,000
If the maximum volume is reached within a period of one year, then a maintenance cycle must be performed
Toner lifetime Black
23,000 pages
Imaging Unit lifetime Black
80,000 pages/600,000 pages (Drum/Developer)
Power consumption
220-240 V / 50/60 Hz; Less than 1.5 kW (system)
System dimensions (WxDxH, mm)
585 x 660 x 735 mm (Standard configuration of main body)
System weight (kg)
Approx. 56.5 kg
System Features
Security
ISO15408/IEEE 2600.2 compliant (in evaluation);
IP filtering and port blocking;
SSL2; SSL3 and TSL1.0 network communication;
IPsec support; IEEE 802.1x support; user authentication;
Authentication log; secure print;
Hard disk overwrite (8 standard types);
Hard disk data encryption (AES 256);
Memory data auto deletion; Confidential fax receipt;
Print user data encryption
Accounting1
Up to 1,000 user accounts; Active Directory support
(user name + password + e-mail + smb folder)
User function access definition
Biometric authentication (finger vein scanner) optional
ID card authentication (ID card reader) optional
Software
Print Status Notifier
Driver Packaging Utility
Log Management Utility
Všechny údaje o množství papíru se týkají formátu papíru A4 s gramáží 80 g/m2. Kvalita tisku na silné papíry a jiná média se může lišit od kvality tisku na papír gramáže 80 g/m2.
Všechny údaje o rychlosti skenování, kopírování nebo tisku se týkají papíru formátu A4, který je skenován, kopírován nebo tištěn napříč, ve vícestránkovém režimu a jednostranně.
Podpora a dostupnost uvedených parametrů a funkcí se liší v závislosti na operačním systému, aplikacích, síťových protokolech a na konfiguracích sítě a systému.
Udávaná životnost spotřebního materiálu je stanovena za jmenovitých pracovních podmínek, jako je pokrytí každé stránky (5% pokrytí A4).
Skutečná životnost spotřebního materiálu se bude měnit v závislosti na použití a na dalších parametrech při tisku, jako je pokrytí stránky, formát stránky, typ média, kontinuální nebo přerušovaný tisk, okolní teplota a vlhkost.
Některá ze zobrazení výrobku obsahují volitelná příslušenství. Některé kombinace funkcí se mohou vzájemně vylučovat.
Develop a ineo jsou registrované značky / názvy produktů, vlastněné společností Konica Minolta Business Solutions Europe GmbH.
Konica Minolta neručí za případnou chybu v některých uvedených cenách nebo technických údajích. Technické údaje a příslušenství podléhají změnám bez předchozího upozornění.
Všechny ostatní značky nebo názvy produktů jsou registrované ochranné známky nebo ochranné názvy produktů a jejich příslušných výrobců. Konica Minolta za tyto produkty nepřijímá žádnou odpovědnost nebo záruku.
Nabízíme tisková řešení těchto značek: